Transform your garden with ornaments, statues and water features
Whether you're starting a landscaping project from scratch, overhauling your current garden or need some landscape supplies for regular garden maintenance, visit Down to Earth Garden Supplies. Based in Perth, we have everything you require for your garden. Contact us for advice or pop into our store in Midvale.
For professional and home gardeners
For the professional landscaper or the home gardener, we stock a variety of soils, sands, mulches, and garden features, ornaments and stones to create the ideal backyard. We pride ourselves on our diverse product range, and with everything under one roof, you don't have to shop around.
Wide range of unique products
We specialise in sourcing unique products and have a fully stocked outlet with items that you won't find anywhere else. With our strong position in the market, we offer both variety and affordability; our styles swing from classic Asian and rustic to contemporary and eclectic within a competitively priced product selection. When it comes to garden supplies and products, we are committed to providing high-quality products and excellent customer service. In addition, we are constantly adding to our product range, which means you are assured of a new experience with every visit.
Read More
Meeting all your garden requirements.
Whether you manage a large garden attached to a commercial property or enjoy weekend gardening in your backyard, we've got what you need. We supply a huge variety of products and supplies including:
Buy in bulk and save big
For those who buy in bulk there are many cost savings to be enjoyed. We also arrange for the bulk delivery of sand, soil, mulch and many more essential landscape materials.
Garden ornaments
Standout gardens consist of more than just plants and flowers; and there are many different types of ornaments to transform your outdoor area. We have statues, steppers, wall art, birdbaths, windchimes and so much more to decorate your garden. Chat to our staff at the centre, they love gardening and offer great advice on how best to incorporate ornaments into your outdoor space.
Garden water features
We stock water features of all sizes to complement a variety of gardens. Whether you want a water fountain to be the focal point of your garden or a part of a series of attractions, we have one that is best suited to you. Come in, have a look at our variety of landscaping products and features, and decide which ones best suit your home's architectural style, outdoor atmosphere and garden layout.
Garden Sculptures
If you want to create your own Jardin du Luxemborg in the privacy of your backyard, incorporating garden sculptures is the best way to do it. Statues add a flair of aristocracy and grandeur to any space no matter what type of sculpture you choose,  you will find the perfect garden statue at our store.
Garden Soil Supplies
Depending on what type of plants you are trying to grow, we have a soil that is suitable for your plant choice. We stock soil improvers to enhance Perth's sandy soils. If you are unsure what soil to use, chat to one of our staff today.
Stones and Pebbles
Stones and pebbles add different types of texture to a garden. It will set your garden apart from the neighbour's in a beautiful way. You can incorporate stones or pebbles to separate flower beds, initiate walkways, use around water features or to place in between shrubbery for a break in greenery.
Mulches
Mulch comes in many different forms and each promotes healthy soil activity, which allows your plants to grow properly without being suffocated by weeds and eaten by insects.
Visit our store to choose which mulch best suits your plants and the look you're going for in your garden. Contact us today or pop into our branch for all your gardening supplies.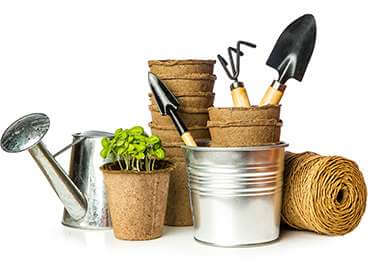 WE VALUE OUR CLIENTS
Find out what they have said about us